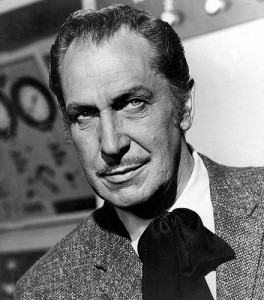 Did you know the famed horror actor Vincent Price was a St. Louis native?
It's true…. He was born on May 27th, 1911 in St. Louis, Missouri and raised here as well.
Vincent attended the St. Louis County Day school when he was younger and later attended Yale University to further his education. He was studying art history and fine art.
In the 1930's Vincent Price became interested in theatre and began to appear professionally on stage in 1935.
His film debut began just three years later in 1938 when he got a minor role in the Universal Pictures film titled Service de Luxe.
It wasn't until 1939 that he did his first horror film in Boris Karloff's film "The Tower of London." The following year he had the title role in the famous movie "The Invisible Man Returns."
After that Vincent Price became a huge star known the world over. He starred in many other famous movies over the years, many of them horror films, but he did cameo parts in other movies and television shows as well.
A few really famous movies were done much later on in the 50's. You might remember The House on Haunted Hill, The House of Wax and The Fly. I remember watching all of those when I was just a youngster in the 1970's.
Price also played the Egghead character in the original Batman series with Adam West and Burt Ward. He has stated many times how much he enjoyed that role and how the cast always had tons of fun when they went to film the show.
One of the most notable traits of Vincent Price was his voice. Throughout his career he narrated plenty of horror films doing voice overs and such simply because he was able to make whatever he was saying sound really scary.
I'm sure some of you remember Alice Cooper's first solo album "Welcome to My Nightmare" in 1975. Vincent did a voiceover on that album. He was also the guy telling the scary tale in Michael Jackson's Thriller video.
I could go on all day about the work this man has done and still not be able to tell you everything he accomplished in the American Film Industry.
However, it should be noted that Vincent Price was also a gourmet chef. He co-wrote and published a book in 1965, with his second wife, called "The Treasury of Great Recipes." Price also hosted some cooking shows in the 70's.
In his personal life, he was married three times and fathered one son and one daughter.
Vincent was a life long smoker and died of lung cancer on October 25th, 1993.
We in St. Louis will never forget Vincent Price's contribution to the world and are so very proud to say he hailed from our great city.