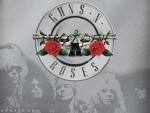 The famous Guns N' Roses concert/riot in St. Louis on July 2nd, 1991 is not one that St. Louisans will soon forget.
The concert took place at Riverport Amphitheatre, a regular concert venue in Maryland Heights. Approximately 90 minutes into the show during the song Rocket Queen, Axle Rose stopped singing and started yelling for security to take a camera away from a spectator close to the front row. A few seconds later, Axle said "I'll take it God Da***t and lunged into the crowd. Minutes later the debacle had been broken up. At this point Axle jumped back up on stage and said "Well…Thanks for the security. I'm going home. He then threw his microphone down on the stage and walked off. The rest of the band followed.
Shortly after the band's departure, unrest began and the crowd started to riot. People tore the seats out of the floor and all of the band's gear was destroyed. The crowd destroyed everything that could be destroyed. There are many St. Louisans who took damaged material from the concert as a souvenir of the famous riot.
The chaos ensued for approximately 45 minutes until police in riot gear finally got the situation under control. When it was all said and done, 90 people were injured and 16 were arrested. The event made national and world news. It would soon be labeled the famous Rocket Queen Riot.
Today, regardless of the rioting, I am still a die hard Guns N' Roses fan. I'm sure many other St.Louisans are as well.
In the end, we aren't happy that the riot took place but we are happy that Guns N' Roses did visit and perform in our great city of St. Louis, Missouri.
See YouTube Video below of the riot in St. Louis: